LIFE INSURANCE GIFT WILL SUPPORT THE FUTURE OF BOK TOWER GARDENS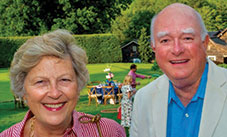 J. F. Bryan, IV, was 10 when he first visited Bok Tower Gardens on a tour of Florida with his family. J. F. did not become actively involved in the Gardens until an adult, but the memory of that initial visit stays with him.
J. F. grew up very close to his dad, who loved to garden, and also worked unceasingly to support their community. "I saw what he made happen—it was powerful!" he says. "I wanted to follow his example." As with Bok, making the world a bit better is a powerful mantra—and Bok Gardens is a shining example of exactly that, for all the world to enjoy.
After decades of support, including serving on the Bok Tower Gardens board since 1992, as board chair repeatedly, and currently as philanthropy committee chair, J. F. has made an estate-plan gift to ensure this support continues beyond his lifetime. "I purchased a life insurance policy and made the Jacksonville Community Foundation the owner of it," J. F. explains. "They pay the premiums out of my donor-advised fund, and Bok Tower Gardens is a beneficiary of the policy."
As retired president of Independent Insurance Group and as "an insurance man," J. F. understands the benefits of life insurance gifts. "It is tax advantaged and very affordable," he says, "and I was able to give much more than I could have otherwise."
Peggy, J. F.'s wife of 54 years, also heartily supports Bok Gardens. When Hurricane Charlie devastated the Gardens in 2004, Peggy sent a truckload of oak trees from the family tree farm to help replace those lost to the storm.
The Bryans hope their gift will encourage generosity in others. "Bok Tower Gardens feeds your soul," J. F. concludes. "It is important to inspire the next generation to protect it—and inviting them to enjoy it now is a great way to do that."
To learn how, reach out to Melissa Tyrone, Director of Philanthropy & Membership, at mtyrone@boktower.org or (863) 734-1213.
© Pentera, Inc. Planned giving content. All rights reserved.
Disclaimer