A Sanctuary Built on Giving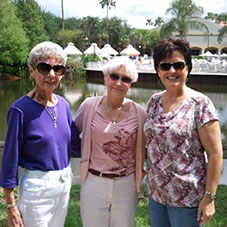 Pictured from left to right
Gwen Seliga, Diane DeWan (Gwen's late husband's niece), and Rose Young
When Gwen Seliga signed up to volunteer at Bok Tower Gardens in 2011, she was seeking sanctuary from the grief she felt after the death of her beloved husband Joe. However, she found so much more. She found a family.
Described as "no nonsense," "practical," and "spunky" by those who volunteered and worked beside her, Gwen volunteered full-time in several capacities at the Gardens. "From the reception desk to the Visitor Center, Gwen would take on anything and everything we needed," says David Price, President of Bok Tower Gardens. "She threw her heart and soul into this place. We were so lucky the day Dorothy Burger encouraged her to volunteer with us."
Rose Young, Gwen's friend and volunteer "supervisor" remembers that the Gardens "gave her peace. But it was the comradery that made her soar. In these Gardens, Gwen found kindred spirits."
When it became time to renew her estate plan, Gwen decided to leave a legacy at Bok Tower Gardens and join the Edward W. Bok Society. "She recognized how special the Gardens are and that they are more than just beautiful. She wanted to make sure [we] would be here for others who may need a sanctuary like she did once," Rose fondly shared.
Upon her death in December of 2017, Gwen bequeathed a portion of her estate to support the Preserve the Legacy, Steward the Future capital campaign. Her legacy continues at Bok Tower Gardens as she helps others find sanctuary among the Gardens.
To learn how, reach out to Melissa Tyrone, Director of Philanthropy & Membership, at mtyrone@boktower.org or (863) 734-1213.
© Pentera, Inc. Planned giving content. All rights reserved.
Disclaimer