Lifelong Love of Nature Inspires Estate-Plan Gift to the Gardens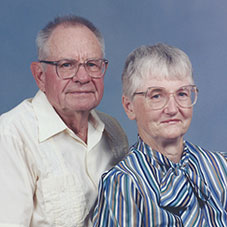 Perhaps it was growing up on a farm or living a stone's throw from the woods and the local swimming holes, but something about nature captured Howard and Lois King's imagination from an early age
As a young man, Howard King thought he was destined to become a forest ranger—until his mother shared her thoughts on the notion. Instead, he served in the Pacific Theater during World War II, working in HVAC and the automotive industry before becoming a teacher and counselor in a middle school just before retirement. Lois, his beloved wife of 53 years, found her joy in learning and passing that knowledge along—first as a teacher and then as a school librarian.
Their love of nature led them to use family vacations for traveling throughout their native Indiana and beyond, taking their three children along for camping, hiking, and other outdoor activities. They were careful to nurture the kids' love of nature by sharing their knowledge. Lois's special love of plants and Howard's of animals inspired with Lois specializing in plants and Howard animals.
Once they retired, they sought ways to both contribute to their new hometown of Fedhaven, Florida, and discovered Bok Tower Gardens. As volunteers, Howard and Lois served in the Gardens, working in the garden beds, leading tours, helping with maintenance projects—giving more than 1,000 hours of service each—and found their appreciation of the Gardens deepening as they learned the effort it takes to maintain them. Bok Tower Gardens President David Price remembers Lois well, "Every time I would see her in the gardens, she would be covered in dirt with a huge smile on her face. I think she loved every minute she spent here."
Bok Tower Gardens quickly became a "must-do" every time family and friends visited. John King, their oldest son, remembers, "It almost seemed like my father had a relationship with the geese and alligators and other animals there. We would be out walking around the gardens, and he would look for them and talk to them. Ask them how their days were going and all."
When it became time to plan their estate, both John and his sister Helen King supported their decision to specify a percentage of their living trusts to Bok Tower Gardens as a memorial to their late brother, Robert "Bob" Allen King. Bob loved hiking and being outdoors like his parents and passed away at the age of 20. Howard and Lois sat their remaining children down and explained they wanted to give Bob's share to charity. "Giving," John shared, "was a part of who we are. It is a source of pride for me that they were so giving."
After Howard passed away in 2001, Lois continued her volunteering in the Gardens until her own death in 2014. "Though they are gone," Price shares, "they are still sharing their love of nature with others. Their gift made the Wildflower Walk possible, and we named it for them so we would never forget how much they loved it here."
To learn how, reach out to Melissa Tyrone, Director of Philanthropy & Membership, at mtyrone@boktower.org or (863) 734-1213.
© Pentera, Inc. Planned giving content. All rights reserved.
Disclaimer